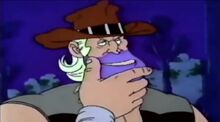 Bayou Billy is a resident of Bayouland in Videoland. He is based on the protagonist of The Adventures of Bayou Billy.
Cartoon
[
]
Bayou Billy appeared with Loafer, his pet alligator. He taught Kevin how to survive in Bayouland and helped him find Duke, who came to his world while chasing a robotic cat through the Palace of Power.
Design
[
]
The initial character design for the Captain N version of Bayou Billy was done by Fil Barlow. Although he did conceptual character designs that Captain N were based off, the only episode that he worked on was "How's Bayou". He designed all of the monsters and characters for that episode. Billy was a caricature of an artist that had been part of his team on ALF and was now heading the designs on Captain N in his absence (Fil was back in Australia, sending designs via fax).
Captain N didn't air in Australia, so he never saw how the episode turned out until he caught it on YouTube a few years ago. The artist had turned the tables on him; Billy had became a "Crocodile Dundee" clone, which the artist knew Fil disliked as an Australian stereotype. He got Fil good for caricaturing him in the first place.
Appearances
[
]
Trivia
[
]
In the video game, Bayou Billy was originally Billy West, a man who had been attacked by Louisiana gangsters and left for dead in the bayou. Through the help of a Haitian swamp dweller, Bayou Billy learned to survive in the swamps as well as nonviolent ways for dealing with alligators. However, when the gangsters learn of his survival, they kidnap his sweetheart Annabelle and force him to fight through the bayou and Bourbon Street to confront their leader, Gordon, in his mansion.
"Bayou Billy" is a name often associated with Cajun products, such as Bayou Billy's Snow Cream and Bayou Billy's Homebrew Soda.
Gallery
[
]