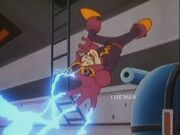 Elec Man is one of the Robot Masters from the original NES Mega Man game. He was designed by Dr. Wright and reprogrammed by Dr. Wily.
Biography
Edit
As his name implies, Elec Man attacks his opponents through the use of electricity. Due to his speed and multi-directional method of attack, he is notorious for being one of the toughest bosses in the Mega Man video game to beat.
Elec Man ambushed Kevin, Duke, Princess Lana, and Mega Man as they made their way to the end of Cuts Man's stage. A single shot destroyed him.
Along with the other Robot Masters, he was later recreated with the power of the Three Sacred Treasures, but destroyed again by Kid Icarus' Fire Arrow.
Appearances
Edit
Unlike many of the other Robot Masters, Elec Man's appearance in Mega Man is fairly similar to his appearance in Captain N. The only major differences are his color scheme and the "glasses" shape around his eyes, which is much larger in the cartoon than it is in the game.
Community content is available under
CC-BY-SA
unless otherwise noted.