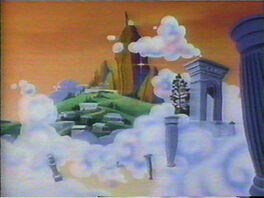 Mount Icarus is home to Kid Icarus and numerous other similar youthful winged archers. It is based loosely on the Kid Icarus video game.
Other inhabitants include an arrow maker atop the world's eponymous mountain, the hideous snake-haired Medusa, and a philosopher called Fateicus. Though never explicitly mentioned on the show, the world is Eggplant Wizard's land of origin (as he appears in the Kid Icarus video games). The world appeared numerous times in the first season but faded into the background in later seasons, and was never seen again. Unlike other fantasy worlds of Videoland which are usually medieval, Mount Icarus has a design not unlike that of Ancient Greece and Rome.
This world is called Mount Olympus (accurate to the games) in the comics, in which it is the homeworld of Kid Icarus and Uranos.
Appearances
Edit